QRC
Client:
Queensland Resources Council (QRC)
Challenge:
To create a tool that demonstrated the economic impact the Queensland mining industry had on the state. As part of its brief, the QRC asked Mitara to develop a website that captured data it had collected via its members. The target market was extremely broad. It encompassed anyone who lived, worked (or wanted to live or work) in Queensland from mums and dads, school kids, business owners, investors and ASX-listed companies. Based on this, the site needed to be extremely user-friendly, easy enough to follow for school assignments, yet detailed enough for economists and industry experts.
Solution:
The key was creating a site that was both interactive and personal to allow its viewers to perceive a sense of ownership. Mitara suggested a postcode search so individuals could discover how much income their very town received from the resources sector in the form of wages (direct and indirect), royalties and dividends. Through customising Google Maps, Mitara was able to visually and accurately convey the economic data QRC had collected. Mitara developed the branding, along with the name "What are resources worth to me." Mitara also came up with the name and sourced the domain name for: www.queenslandeconomy.com.au
In order to add additional colour to the facts and figures, Mitara produced videos where "real people" were interviewed about how the industry impacted on them. The site also mentioned how much the resources sector spends on local suppliers. And as an avid supporter of the resources sector, Mitara is one of these suppliers.
Other tasks Mitara completed included:
Design of a statewide, full-page advertisement for the newspapers including the Courier Mail
Search Engine Optimisation work and online advertising
Production and editing of the launch video.
Result:
Queensland Resources Council Chief Executive Michael Roche launched the site on November 24 at the QRC annual lunch to an audience of about 1,000 industry members and media. The website has effectively lifted Queensland's resources sector from underground and into the limelight.
What the client says:
David Rynne 
Chief Economist,
Queensland Resources Council:
"Mitara went to exhaustive effort to bring a complex concept into a functional website. Already, the website has people thinking. It's been one of the most complicated projects completed on behalf of an industry group. At the launch, we received compliments to say that it was indeed one of the most impressive feats an industry group has achieved. I'm very happy with the efforts by the team at Mitara. It was an immensely complicated brief and they delivered exactly what we wanted, in fact, probably more. The website is more usable than we thought it would be and the suggestion to utilise Google Maps was both clever and practical. It has successfully put all our data into a visible format and provided the industry with a tool to lobby and market itself. It's not just something for mums and dads. It lays out the sector's contributions through royalties, land use and employment. And we think the name is very apt, given the figures show we represent 22 per cent of Queensland's economy."
Images
project Queensland Economy Website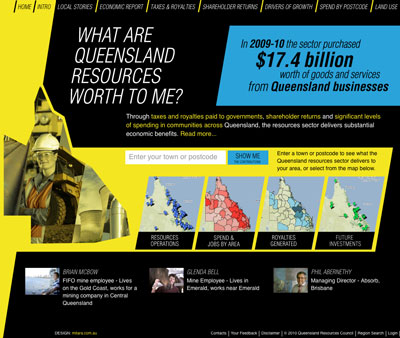 project Queensland Economy Website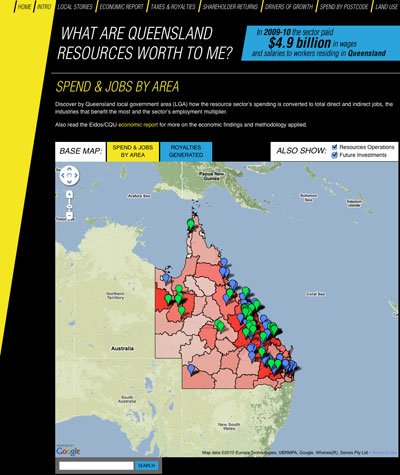 project Queensland Economy Website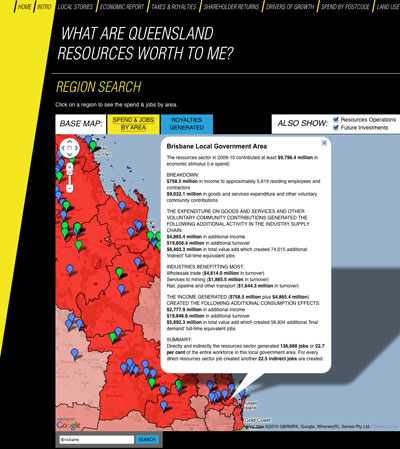 project Queensland Economy Website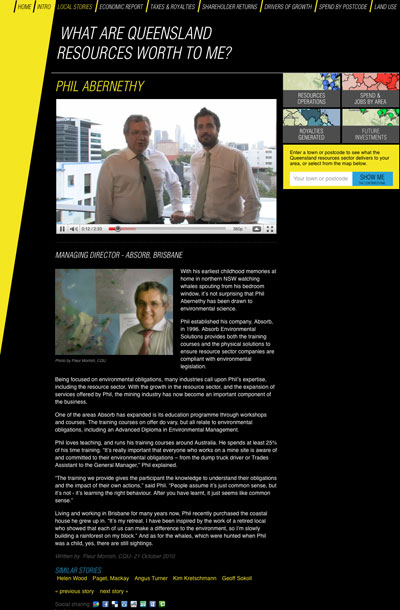 BRISBANE:

2/1C CRESCENT RD, HAMILTON QLD 4007 AUSTRALIA

BRISBANE:


07 3630 0310

info@mitara.com.au
PERTH:

27/44 ST GEORGES TERRACE,
PERTH WA 6000 AUSTRALIA

PERTH:
08 6188 0300